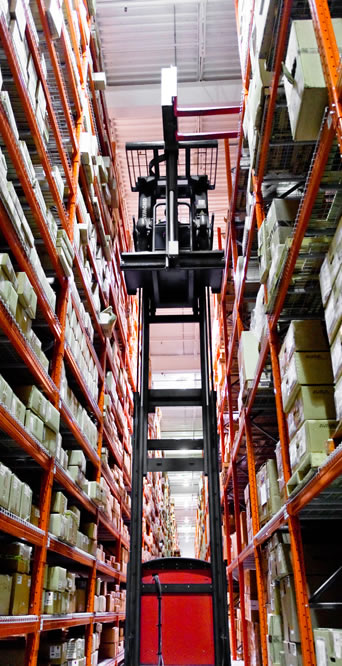 It pays to stay close to your clients. We'll put you within reach, anywhere in North America.
Extensive industry expertise, backed by a comprehensive quality management system
A vast network of distribution and Strategic Stocking Locations across North America
Comprehensive Value-Added Services
Best-in-Class Technology
Segregated storage methods to ensure your product is controlled
Performance measurements to ensure your supply chain activities are consistently achieved
Take a strategic approach to adding value to your business with distribution solutions by Apple Express. We understand the movement of goods across suppliers and customers. We recognize that it's about getting items where they need to be, exactly when they need to be there, and doing it as time- and cost-efficiently as possible. Our team's focus is on service quality and cost efficiency. Our trained logistics specialists use a variety of quality tools to continuously assess our performance and identify areas to improve, helping our clients realize efficiencies in their supply chain. We can assist you in improving warehouse inventory accuracy in a single site or across multiple sites.
Capabilities
Receipt of Product:
Replenish stock in our warehouse and we'll confirm its availability within two to four hours after delivery to the site, ensuring your inventory is available for your next customer order.
Materials-In-Review (MIR):
For those items that are unidentifiable or damaged in transit, Apple Express will ensure that these products do not flow through to your customer without your permission. Our controlled Materials-In-Review process allows our team to collaborate with our clients, ensuring we accurately receive products to stock and provide you with valuable performance feedback to share with your product supplier.
Outbound Order Fulfillment:
Whether by large pallet or small package, you can leverage our distribution network for flexible, efficient shipping options. With strategically located facilities, Apple Express makes the complicated simple.
Outbound services we provide to our clients include:
Order receipt

Logistics planning and dispatch

Picking/replenishing

Outbound value-added services, such as customized packaging or kitting

Shipping

Electronic shipping confirmation

Shipment milestone visibility