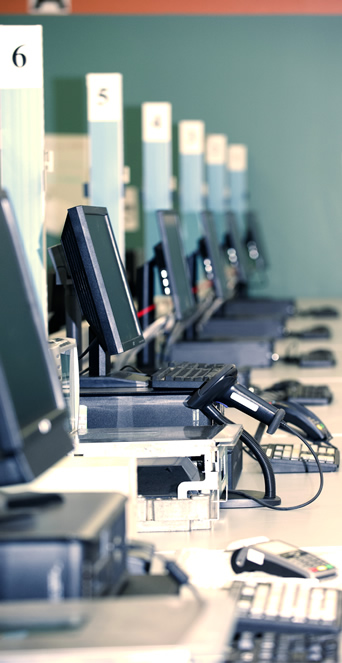 We've built the framework, teamwork and network that can deliver proven results in any environment.
Effective management of multiple vendor components
Offsite staging and testing to minimize on-site expenses
On-demand deployment of projects
Fully supported by Apple Express delivery network
Leverage our Configuration Centre service offering to augment or fully outsource your staging and configuration requirements. By engaging Apple Express as your technical partner you will quickly realize economies of scale while maintaining robust quality control over the finished product. We work to act as an extension of your internal team allowing you to realize a seamless operation designed to satisfy all your operational needs ranging from forecasted rollouts to emergency and on-demand 24/7 options.
Configuration Services We Provide to our Clients Include:
Point-of-Sale Devices and Components
End User Devices (PCs, Laptops and Tables)
Miscellaneous Components (Time Clocks, Printers, Scan Guns)
Advanced Infrastructure Devices (Switches, Routers and Firewalls)
Server and SAN Configuration
Software and Operating Systems (VM Ware, Linux, SCO, Unix and Windows)
Physical Details:
24/7 operation

Access-controlled warehouse (ingress and egress)

Monthly staging capacity of 10,000 devices

Scalable staging infrastructure – gigabit networking (10g backbone)

High-density operation – power/cooling/storage
Configuration Centre Integration and Deployment Services:
Configuration of OEM equipment (Dell/HP/IBM)

Quality assurance (burn-in validation, stress tests, custom QA)

Strategic disassembly/packaging/shipping (IMAC) assist efficient onsite deployment
Configuration Centre – Capabilities:
Advanced Infrastructure Team:
Server staging (SAN/SAS integration, advanced networking, virtualization)

Networking infrastructure (routers, switches, firewalls, wireless components)

Software and operations system configuration (Linus, SCO Unix, Windows)
End User Device Team:
Point-of-sale (PCs, scanners, scales, keyboards, UPSs)

PCs, laptops and tablets

Miscellaneous components (CRU/FRU) (time clocks, printers, scan guns)
Emergency Support:
Same-day staging

After-hours staging (24/7)

Expedited shipments (direct drive, NFO)

24/7 ISP staging capabilities (emergency response plan, 24/7 on-call staff)

Business continuity integration (contingency plan to facilitate a high volume response)
Value Added Services:
Reverse logistics

Kitting

DOA management
Configuration Centre – Customer Benefits:
Standardized image deployment

Quality-controlled devices

Volume spikes

Inventory visibility

Asset management integration
Configuration Centre – Client Integration:
Order management integration capabilities (EDI, web service, etc.)

Inventory visibility and control – client inventory portal

Asset management and control – client asset portal